Tieng anh tre em
English for Kids
The courses are designed for children from 5 to 10 years old.

Duration: 30 hours/course

Syllabus: Let's Go

Teaching methodology:
- Focus on improving vocabulary as quick as possible in order to help students to express their ideas easier. Vocabulary are selected from topic relating to children's daily lives.
- Use phonic approach for pronunciation.
- Focus on develop all 04 skills Listening- Reading- Writing- Speaking
- Listening skills will be improved through listening to songs and stories
- Reading skills will be improved through reading short passages or stories.
- Writing skills will be improved through writing short text/passage based on sample writing passages.
- Speaking skills will be improved through Speaking exercises in class.
- Regular review tests will be carried out from 2 to 2.5 months. Teacher-parent conference will be held after that to discuss about the child's progress.

Levels: Let's Go 1, Let's Go 2 and Let's Go 3


English for Children
The courses are designed for children from 10 to 12 years old.

Duration: 30 hours/course

Syllabus: Solutions and Reading&Writing (Oxford publication)

Teaching methodology:
- Focus on improving vocabulary as quick as possible in order to help students to express their ideas easier.
- Use phonic approach for pronunciation.
- Focus on develop all 04 skills Listening- Reading- Writing- Speaking
- Listening skills will be improved through listening to listening exercises, songs and video clips.
- Reading skills will be improved through graded reading comprehension passages.
- Writing skills will be improved through writing passage based on sample writing passages.
- Speaking skills will be improved through Speaking exercises in class.
- Regular review tests will be carried out from 2 to 2.5 months. Teacher-parent conference will be held after that to discuss about the child's progress.
- Regular extra activities will be organised, such as mask making, baking...

Levels: Solutions Grade 6, 7, 8, 9, 10 and Reading&Writing 4, 5, 6, 7.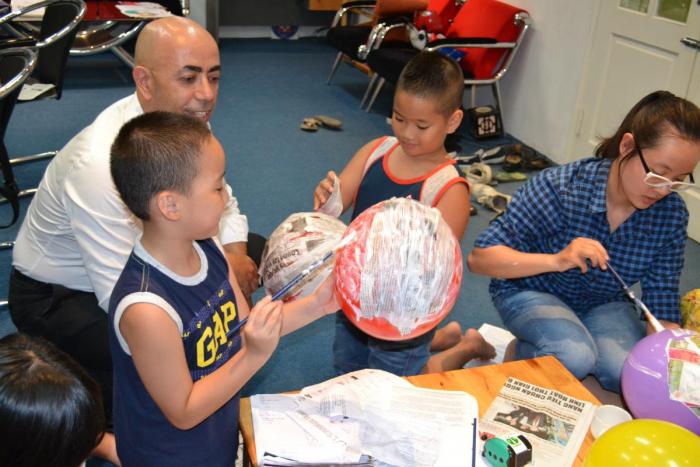 We are following instruction from our book to make our own masks



Baking is fun



Do more research for our speaking exercise



Borrowing books from library is our weekly habit

Contact us
Room 203, N2D building,
Le Van Luong Street, Thanh Xuan District, Ha Noi

+84 (0)24 3555 8161
+84 (0)904 860 081

info@ilse.edu.vn